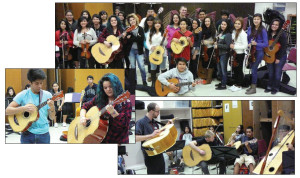 By Jory Tindall, Director of Educator Services, Kennelly Keys Music  Mariachi is not a genre generally synonymous with public school music education. However, Ramon Rivera and his Wenatchee High School Mariachi Huenachi ensemble of trumpets, violins, guitars, vihuela, guitarron, harp and vocals break the mold for how music education can empower students to achieve their goals and better their community. Mariachi Huenachi originates from the Wenatchee School District in Wenatchee WA, where the population is predominantly of Latino heritage, and the Latino culture stands at the forefront of the community. The program is offered at no cost to the students or their families, and student participants are given an instrument and a uniform for performances. Since the advent of Mariachi Huenachi and the affiliated mariachi programs in the Wenatchee School District, there has been a drastic decrease in student dropout rates and a new level of community involvement from students and fans alike. These groups have been featured in numerous settings: opening for Grammy-winning acts, sharing the stage with world-class musicians and performers, and performing at Seattle Seahawks and Mariners games.
Along the lines of community involvement and outreach, Kennelly Keys Music and the Wenatchee School District formed a strong bond of both friendship and business. In addition to aiding and assisting in the normal, day-to-day needs of Rivera and his fellow Wenatchee educators, Kennelly Keys Music facilitated the debut of Hohner's H. Jimenez line of mariachi instruments. Mariachi instruments, although similar to other fretted instruments in terms of technique, lack the variety of retailers and manufacturers from which general band instruments benefit.  The H. Jimenez line has helped Rivera spread his educational influence further, in order to reach more students and more musicians. And, in the development process of these instruments, Hohner consulted with Rivera to determine what technical additions would be necessary to make the H. Jimenez instruments play best for a wide range of players.  In cooperation with Kennelly Keys Music, Hohner facilitated the donation of several instruments in the H. Jimenez line for use by Rivera and Mariachi Huenachi to assist in the progress and expansion of mariachi education throughout Washington, and to deepen the bonds of Wenatchee cultural kinship. With such a strong level of support from the Wenatchee community and the local retail community, Rivera can focus on providing a remarkable and spirited environment for students not only to learn the mariachi tradition, but also to prepare for fruitful lives outside of Mariachi Huenachi.  Original article from the
Music & Sound Retailer.